auf deutsch | en francais | in italiano | no português | en spanol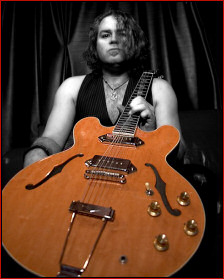 Thursday April 16th, 1998: a tornado hits Nashville, TN. resulting in severe destruction and national coverage... the next day J. PAUL debuts at the only club still open in downtown Nashville... the following Monday a top A&R executive from a New York based major label called for a sample of his music. That phone call never resulted in a recording contract but it did produce a set of demo tapes that would help define "smart-pop" for the millennium.
J.Paul Brittain is a native southerner now based in Nashville TN. Growing up in the 1970's Paul was weaned on everything from Kiss, Captain Crunch, Steely Dan, The Beatles, and weekly episodes of Scooby Doo. Spending his formative years moving from Florida, to Louisiana, to Alabama, and finally to Georgia. Paul developed a love for music and everything involved with it.
It was there in his sophomore year at Northside High School of The Performing Arts, Paul formed his first band "Great Brittain." Although underage, the band played in various clubs in Atlanta ranging from the Moonshadow Saloon to Margaritaville. Eventually the band broke up, with some members going on to play in Atlanta based acts Skin Deep, The Jody Grind, Hallow's Eve, and Texas Crude.
During his Senior year of high school, Paul made a trip to Europe. One night in Paris, Paul's traveling companion convinced a club owner to let Paul sit in with the local blues group playing at the club that evening. Paul rose to the occasion and although he could not speak to the band, nor the patrons of the bar, he realized the power of communicating through music. From then on there became no doubt as to what he wanted to do.
Upon returning to the States, Paul spent his time playing in various bands around the south, and honing his songwriting skills. Finally he joined up with Sony/Tree recording artist "JAG", and recorded and toured with them for the next four years. Then after a brief stint with Oregon's Versus they decided to call it quits. Paul, refusing to rest, began working again on his own songs while performing in clubs around the country with party rock specialists "Kung Pow" and "Breakaway."
In writing songs Paul delved not only into his own musical influences, but into his own life experiences as well as a splash of pure fiction. What has emerged are very honest songs about assorted oddball characters and a skewed take on the intangible. The songs are very raw edged maintaining a sufficient amount of melodic grace. Frustrated with the trendy bandwagon jumping of his peers, Paul began to document his own style with a series of demo tapes. These demos eventually developed into the nine song CD "Unspeakable." The making of "unspeakable" survived an apartment fire, four relocations, and three cars dying, but despite the setbacks it was completed and released. When asked about his sound Paul says, "morphing the elements that I love about Disco, Heavy Metal, Euro-Pop, and Beatle-Rock into one cohesive flavor is the big thrill I get out of J.PAUL."
Countless miles instilled in Paul, from both the road and life come out in a very soul felt performance. Live, the passion in his songs do not languidly lapse out into the listeners' ears from his voice, but rather they explode. Those that have seen him and his band (Vic Stafford/drums, Tony Harp/bass guitar, Josh Rosen/keyboards) have remarked at the intensity that one man and his guitar portrayed; in that they not only heard it, but they felt it as well.